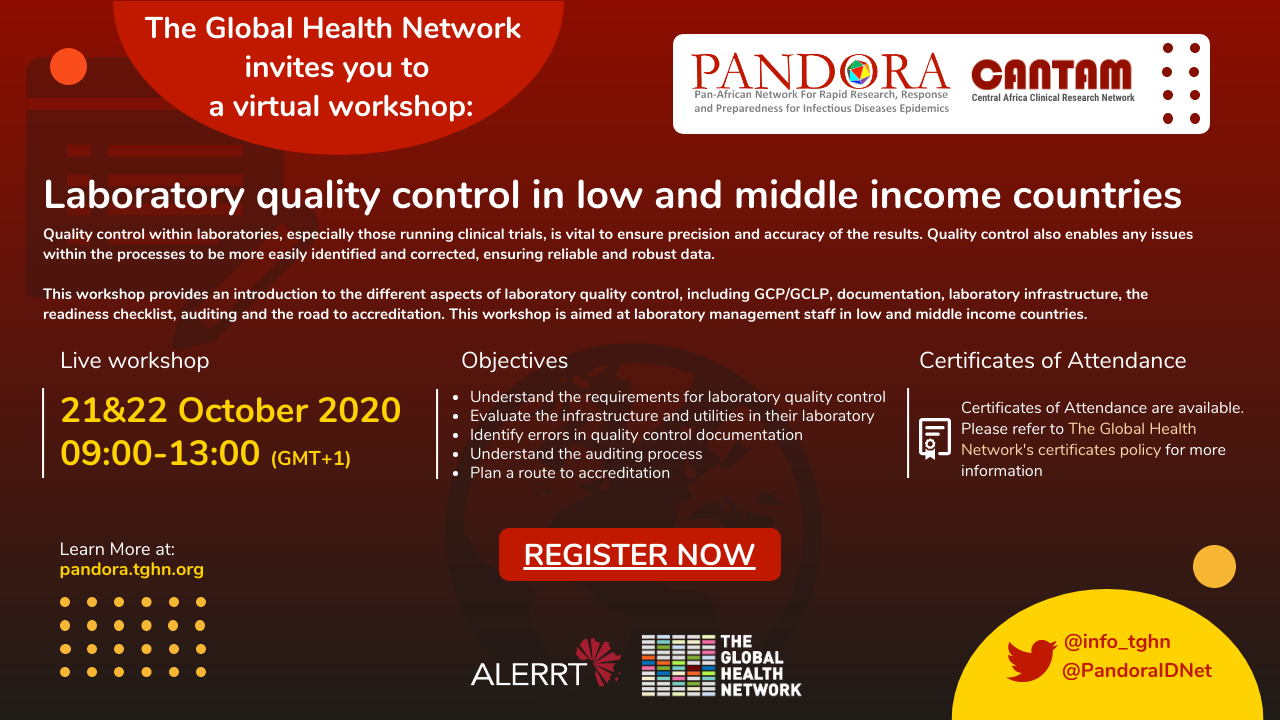 Quality control within laboratories, especially those running clinical trials, is vital to ensure precision and accuracy of the results. Quality control also enables any issues within the processes to be more easily identified and corrected, ensuring reliable and robust data.
This workshop provides an introduction to the different aspects of laboratory quality control, including GCP/GCLP, documentation, laboratory infrastructure, the readiness checklist, auditing and the road to accreditation. This workshop is aimed at laboratory management staff in low and middle income countries.
The workshop will be broken down into these topics in two 4-hour sessions over the two days. Teaching will be a combination of presentations and discussions, with breakout sessions, case studies and example documentation.
Join the discussion group to share your reflections on the programme.
Certificates of Attendance will automatically be issued to eligible participants once we have confimed you meet the criteria. Please refer to The Global Health Network's certificates policy for more information.
Thank you to those who attended this workshop and the presenters and organisers. The workshop materials and recordings will be made available very soon on this page.
Workshop Sessions

DAY 1 - Wednesday 21 October - Outline

Time

Introduction

09:00-09:15

Introduction to quality control and GCP/GCLP

Identifying what you want from your laboratory
GCLP/GCP
Discussion session

09:15-10:00

Coffee Break

10:00-10:15

Documentation

Importance of documentation - Basis of Quality Management System (QMS)
Essential documents required for QMS
Document control process
Document requirements
Master list index
Compliance with documentation must be assessed and reviewed (internal/external audits)
Example of SOP template and Master list Index

10:15-11:30

Coffee Break

11:30-11:45

Quality management - readiness checklist

Equipment Service schedule or service contract in place; all servicing & calibration up to date and reports available
Staff training (assays, safety, competency assessment) and CVs up to date and documented
Appropriate health and safety measures in place and documented
Quality Management Plan/SOP in place and up to date

11:45-12:30

Wrap up session

12:30-13:00

Workshop Sessions

DAY 2 - Thursday 22 October - Outline

Time

Infrastructure and utilities

BSL levels
Utilities
Waste disposal pathways
Computerised laboratory management systems
Calibrating equipment yourself – guidelines
Contingency plans

09:00-09:45

Coffee break

09:45-10:00

Quality management - auditing

Areas to be audited:

- Facilities
- Systems
- Equipment
- Methods
- Quality control procedures
- Personnel
- Reports
- documentation

Laboratory readiness checklist
Recording and processing samples
Applicable training on quality system requirements
Recording of data
Internal and external audit
Reagent and sample batch tracing
Continuous QC improvement form, contamination rates, reagent QC forms

10:00-11:15

Coffee Break

11:15-11:30

Working towards accreditation

SLMTA (Strengthening Laboratory Management Toward Accreditation)
WHO - SLIPTA (Stepwise Laboratory Improvement Process Towards Accreditation)
African society for laboratory medicine (ASLM)
ISOs

11:30-12:30

Wrap up session

12:30-13:00