About Pandora
The Pan-African Network For Rapid Research, Response, Relief and Preparedness for Infectious Disease Epidemics (PANDORA-ID-NET) is a €10 million grant funded by the European and Developing Countries Clinical trials Partnership (EDCTP).
PANDORA-ID-NET is a novel multidisciplinary 'One Health' initiative that supports broad themes addressing response to emerging infections in Africa and supporting this through capacity development and training. The project is led by Prof Francine Ntoumi (Republic of Congo), Sir Alimuddin Zumla (UCL) and Prof Giuseppe Ippolito (INMI, Italy) and includes partners from 13 African Institutions and 9 European Institutions.
Click here to see information about Pandora's partner sites
Click here to view the profiles of Pandora's consortium members
Our Mission
The PANDORA consortium aims to develop and strengthen effective outbreak response capacities across all geographical regions in sub-Saharan Africa, in partnership with national governments and other international stakeholders.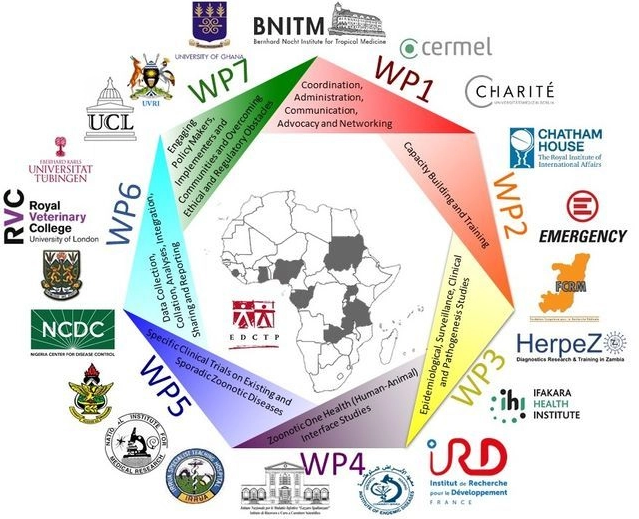 1) Rapid response
Support development of robust 'ready to go within 48-72 hours' PANDORA-ID-NET trained outbreak rapid response teams that can appraise, evaluate and conduct public health research in each of the four African regions. These will be linked to other regional and global networks on emerging infections.
2) Capacity Development
Develop capacity to conduct research, evaluate and appraise (multi-disciplinary, operational, anthropological, social science, basic science, translational clinical, clinical trials, implementation research), in two situations: a) In the emergency outbreak or epidemic situation; b) In the inter-epidemic period
3) Training
Develop (through high quality training and mentorship) younger generation scientists, healthcare workers, laboratory personnel, clinical trialists, ethicists, and social scientists to take leadership of public health research into emerging infections and the One Health portfolio in all African regions
4) Advocacy
Engage and fully involve politicians, policy makers and global public health agencies at the highest level during all stages of our programme.