Our aim is to engage and fully involve politicians, policy makers and global public health agencies at the highest level during all stages of our programme. We have links with FIND, ALERRT, Africa CDC, Nigeria CDC, African Union, ASLM. The research that we undertake goes towards policy making across the African continent. For a list of our publications, please access our website here. Below you will find a few of our activities and steps taken towards public and policy engagement to further our mission.

---
Creation of PANDORA-ID-NET Twitter and YouTube channels
The PANDORA-ID-NET consortium understands the importance of engaging the public, especially in a pandemic situation. We have a number of social scientists working across our sites working on projects such as community engagement best practice and the use of social media for the dissemination of important public health announcements. The increase of worldwide social media usage has brought with it an increase in 'fake news' or misinformation, and with that in mind PANDORA-ID-NET has launched two communication platforms. Our very active @PandoraIDNet Twitter account aims to provide factual, validated information on scientific news and advances, both from within our own network and from other sources.
We have also recently set up a PANDORA-ID-NET YouTube account, which aims to be a repository for our educational videos and presentations from workshops. Since its creation in February 2020, we have gained over 1K subscribers.
---
Attendance and presenting at ICREID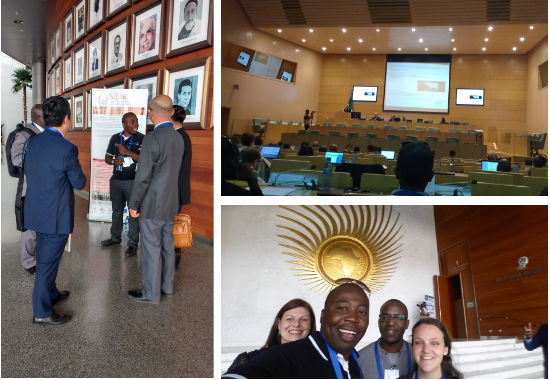 In 2019, many members of the PANDORA-ID-NET consortium from different sites across Africa and Europe attended the International Conference on (re)emerging Infectious Diseases http://www.icreid.com/.
This was an excellent chance to network with Global Health experts from around the world, promote the work PANDORA-ID-NET are doing and foster collaborations.
PANDORA-ID-NET hosted a session on Friday afternoon which was well attended, where we showcased our work and goals, which sparked lively discussion sessions.
PANDORA-ID-NET were due to attend the 2020 conference with even greater impact, with a number of our members having both posters and oral presentations accepted. Unfortunately, COVID-19 stopped proceedings, but we are ready to pick up where we left off when ICREID happens again.
---
Professor Sir Ali Zumla, Professor Francine Ntoumi, Professor Sarah Edwards and Professor Giuseppe Ippolito attending WHO COVID-19 meeting February 2020
From 11-12 February 2020, Professor Sir Ali Zumla, Professor Francine Ntoumi, Professor Sarah Edwards and Professor Giuseppe Ippolito joined world experts on COVID-19 at the World Health Organization's Geneva headquarters to assess the current level of knowledge about SARS-CoV-2, agree on urgent research questions and ways to work together to accelerate and fund priority research.
According to the report "Experts identified key knowledge gaps, and research priorities and shared scientific data on ongoing research, thereby accelerating the generation of critical scientific information to contribute to the control the COVID-19 emergency."
https://www.who.int/news-room/detail/12-02-2020-world-experts-and-funders-set-priorities-for-covid-19-research
---